The Printer Administration option in Eaglesoft allows you to control which printer should be used when printing various items from the software.  To access Printer Administration, click File | Printer Administration.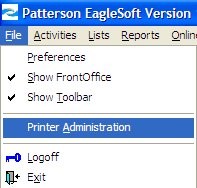 Select the appropriate printer for each item in the drop-down menu, and then click OK to save your selections.  (Please note that scheduling items are included in the report category in Printer Administration).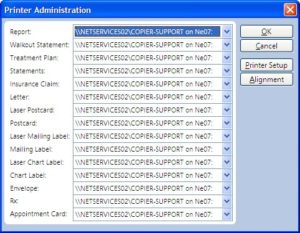 Remember! There are two printer administration menus:  one for Practice Management and one for the Clinical module.  You will want to set the printer defaults for each (if Clinical is installed)
Additional Notes:
– If your office has purchased a Dymo LabelWriter, it is recommended to set the Dymo printer as the default for labels and appointment cards.
– If your workstation does not have a printer installed, we recommend selecting either the Eaglesoft SmartDoc printer or Microsoft Office Document Image Writer.